KERDAZEL BICHON FRISE
Picture above is of our Kelly
Picture above is of Kenza the Pug & Kimora our Bichon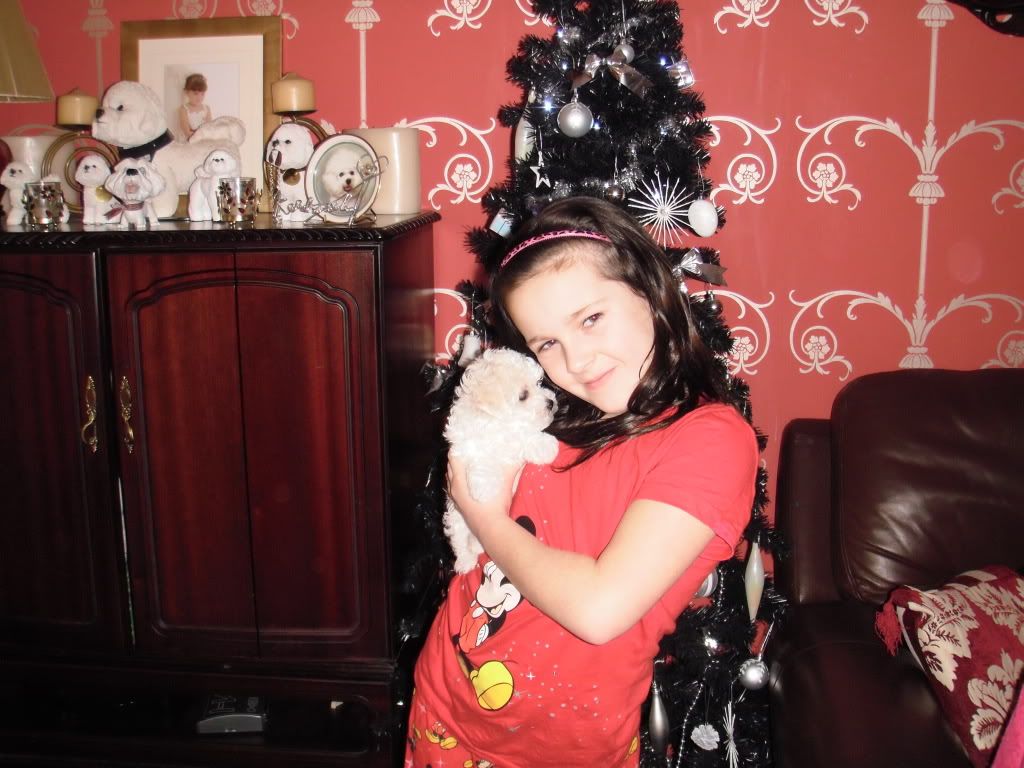 Picture above is of 1 of our previous puppies now called Buttons.
Hi, As soon as my children and myself saw the Bichon Frise we fell in love with the breed and had to have one, but it didn't stop there, we now have the most amazing Bichon's ever, we love them loads and they are very much part of the family.
Our Dog's are firstly our pets, and secondly show dogs, but only if they are happy to be shown, as our Bichon's have always had the best of everything and get all of what they deserve. Out of all the Bichon's we have owned and shown, every one of them have been very succesful in the show ring, all have been shown at Championship level throughout the UK and all have Qualified for Crufts, and our oldest Bichon Kia, has even qualified for Crufts for life and holds a Stud book number. We now also have our new addition Kimora born beginning of 2009 and we will campaign Kimora by the end of 2009. Kimora we bred ourselves, her mum is Kelly and her dad is Izzy from Fribonch Bichon's. Great news on Kimora, now qualified for Crufts 2010 in her 1st ever Championship show, Well done Kimora. All our Bichons are very spoilt and they all live in the home with us and get the best of everything, we adore them, there our Angel's.
We are also happy to announce that my oldest son is now a proud owner of a little Pug called Kenza.
Picture above is of my son's Pug Kenza as a pup
Kenza down at our local beach.
Kenza
Kenza above
Picture's above is of our newest addition Kimora
Kimora
Picture's above is of our Kimora on the left and her brother Harley on the right
Picture's above is of our Kelly & her boyfriend Izzy from Fribonch Bichon's and above & below them is 1 of their boy puppies Kerdazel Fast 'N' Furious by Fribonch / Harley, who is also qualified already for Cruft's 2010 and is now owned by Fribonch Bichon's.
We are situated in South West Wales,
Carmarthenshire,
Wales,
UNITED KINGDOM
Picture's above is of Kimora
Picture above is of Kerdazel Fast 'N' Furious / Harley & Kerdazel What's it all about / Alfie.
THANK YOU very much for stopping by and viewing our website, please check out the rest of our pages and pictures of our adorable Bichon Frise and please feel free to sign our guestbook with any comments you may have.